The Eagles
American Airlines Center
Grand Opening: July 28, 2001
---
The Eagles Have Landed
Text and Photography By Jim Dirden
[ Reprinted Courtesy Of Tomlin Communications ]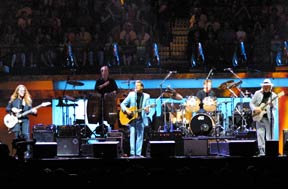 Talk about an opening act! Last Saturday evening, the Eagles inaugurated the new $420 million/840,000 square foot American Airlines Center (AAC) with a stellar performance to a sell-out crowd of around 20,000 adoring fans. While some folks predictably found a few things to whine about, the bottom line is that this grand opening had to be one of the best organized, most enjoyable events in Dallas history.
In 1980, after a decade in the rock music fast lane, the legendary Eagles decided to call it quits, due to what co-founder Glen Frey dubbed as "hardening of the artistry"—the never ending challenge of surpassing your last album or performance with a new and better one. After a 14-year hiatus, the Eagles reunited in 1994 for their "Hell Freezes Over" album and tour. Having just completed a 26-show European tour, this was the first of only two shows currently booked in the U.S.—the other is scheduled for August 11 in Denver.
Eagles statistics reveal why the group has become an icon in the music industry. They have had five #1 albums, five #1 singles, won four Grammy Awards and headlined numerous sold-out tours throughout the world. They were inducted into the Rock and Roll Hall of Fame in 1998 and in 1999 their "Greatest Hits 1971-1975," having sold 26 million copies was, certified as the top-selling album of the 20th century.
Some reviewers dubbed the group's show "low tech." What, no artificial thunder and lightening, purple smoke or broken guitars?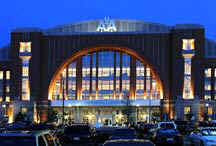 Clearly, Saturday night's audience was delighted with this straight ahead, "Take It Easy" approach. They enjoyed an entire evening of letter perfect Eagles classics augmented by member solos and an 8-piece backup band. The only apparent drawback was that they spent very little time sitting in those plush AAC seats for which they paid big bucks—most of the time they were on their feet singing along or applauding!
For an opening night of this magnitude, the Eagles and folks at AAC far exceeded even the most demanding music critic's expectations. Now, if they would just ban cell phones, fine tune the nearly perfect sound system a bit, cut the price of beer in half ….
---
[ Back ]
Copyright © 2001 Jim Dirden
All Rights Reserved - Reproduction Prohibited