Merle Haggard and The Strangers
Billy Bob's Texas: October 20, 2001
---
Merle Haggard: Poet of the Working Man
Text and Photography By Jim Dirden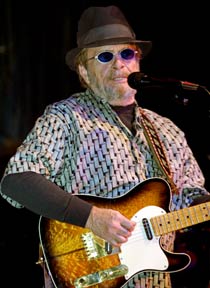 [ Reprinted Courtesy Of Tomlin Communications ]

Around 4,000 rowdy fans turned out at Billy Bob's Texas Saturday evening to hear their idol Merle Haggard and his band The Strangers. After an opening number by original band members ex-wife Bonnie Owens (vocals), Norm Hamlett (steel guitar) and 1974 addition Don Markham (saxophone), the Hag strolled out on stage wearing his typical "business casual" outfit—an un-tucked, loose fitting short sleeve shirt over a black mock turtle pullover, a black fedora and dark blue shades. Though he was clearly a bit road-weary from his current tour, he kicked off his show with "Silver Wings" and proceeded to delight fans with an incredible 90 minutes of non-stop Hag classics! As he laments in one of his more recent songs, "If I don't travel, I don't make a dime."

Born in a converted boxcar in Oildale, California, Merle Haggard's life has been well documented. By the age of 11, he began a pattern of arrest, incarceration and escape, that would be repeated for over a decade. After his release from San Quentin in 1960, he finally managed to get his act together (relatively speaking) and decided to pursue a career in music. He was signed to Capitol Records by 1965 and began releasing a string of hits, including such Hag classics as "Okie From Muskogee," "Working Man Blues" and "Big City," which earned him the reputation of "Poet of the Working Man."

Today, Haggard's catalog of #1 singles, gold albums and list of professional credits are far too extensive to publish here. However, two unique career milestones are worth noting: he was the first country artist to appear on the cover of Downbeat—the definitive jazz publication—and; by special request of the crew, his music was part of the Apollo 16 mission to the moon.

Folks, Merle Haggard is not your stereotypical baby-faced, dipped-in-denim, ultra photogenic Nashville Country "hunk de jour." He is the real deal—a true living legend! Instead of the trite, "tear in your beer" wordplay of most current Nashville Country hits, his best work relies on finely crafted—often stark— narratives drawn from folk, ballad, jazz, blues and Tin Pan Alley. His music defies any label except, perhaps, "Americana" or, in his own words, "country jazz." Those of you who haven't heard his music—probably because it's always in the "Country" section of the CD rack—owe it to yourselves to check him out. A good place to start would be his most recent album "If I Could Only Fly"—enjoy!
---
[ Back ]
Copyright © 2001 Jim Dirden
All Rights Reserved - Reproduction Prohibited