Crystal River, Florida

Florida's famous spring-fed river is a winter playground
for curious manatees and early-rising divers.
Text and Photograph By Jim Dirden
---
[ Reprinted Courtesy Of Rodale's Scuba Diving Magazine ]
A bright orange ball of sun peeks over the West Florida horizon as my wife and I navigate our rental boat out into the bay at Crystal River. It's early February and memories of a long winter are fading as we putter toward an up-close-and-personal encounter with West Indian manatees.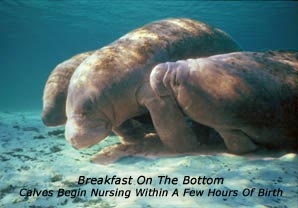 Crystal River is the best place in the world to interact with these rare creatures. From November to March each year, manatees leave the frigid coastal waters to bask in the warmth of the spring-fed river. During peak season, the sanctuaries around Kings Bay host the largest winter gathering in Florida - as many as 300 manatees have been sighted in and around the crystal-clear, 72F water of the springs. Though the textbooks say that manatees migrate because they can't tolerate water temperatures below 60F, local rumor has it that they come just to play with divers.
As we enter Three Sisters Springs, I cut the engine and peer over the side at 30 or more manatees in the 15-foot pool. My heart pounding, I frantically assemble my camera and don snorkeling gear (scuba gear is not needed or recommended - the bubbles scare the manatees). Slipping over the side of the boat, I come face-to-face with one of these behemoths.
It can be a little scary when one of these 1,000-pound, nine-foot-long critters starts sucking on one of your fins or decides to swim between your legs while you're taking pictures. I keep reminding myself that manatees are amiable, benign vegetarians. But you can forget all that mermaid nonsense. With its broad beaver tail attached to a large seal-like torso and a deadpan face with spiked-hair jowls, the manatee is no aquatic bathing beauty. Perhaps the myth stems from their remarkable style and grace under water. With excellent buoyancy control, they can swim sideways and upside down and turn on a dime. By 10 a.m., the manatees leave the spring in search of food and we climb back into our boat, awash in the glow of our brief encounter with these incredible animals.
But the morning is young and rather than let unexposed frames go to waste, we steer toward Kings Springs. Strapping on scuba gear, we drop into the open water of the largest of the springs feeding into Crystal River and explore a grotto that extends to 60 feet under water. In addition to manatees, this area around Banana Island is filled with a variety of saltwater fish - including mangrove snapper and sheepshead - that also enjoy the warmth and protection of the springs during the winter months.
More Information
The town of Crystal River is located on the west central coast of Florida, 80 miles north of Tampa on Highway 19. With three campground/RV parks and eight hotel/motels, accommodations range from budget to deluxe. For a great dining experience, be sure to check out Charlie's Fish House at 224 Highway 19 in Crystal River (352-795-3949); in our opinion, they offer the best seafood and service in the area. For more information, contact the Nature Coast Chamber of Commerce at (352) 795-3149.
Crystal River is fed by freshwater springs that pump millions of gallons of clear water daily. The water is a constant 72F to 74F with visibility of 100 to 150 feet, resulting in ideal diving conditions year-round.
All area dive operators offer tours and equipment rentals. They include American Pro Diving Center (800-291-DIVE or 352-563-0041); Bird's Underwater Tours (800-771-2763 or 352-563-2763) and Manatee Snorkeling & Dive Adventures (813-536-9009). These operators also offer boat rentals: Crystal Lodge Dive Center (352-795-6798); Plantation Inn Marina (800-632-6262 or 352-795-5797); and Port Paradise Dive Center (800-443-0875).
Manatees are an endangered species and are protected by strictly enforced state and federal laws, including boat speed zones (power boats are the number one killer of manatees) and manatee sanctuaries. Prior to a dive tour or boat rental, each person is required to review a "Manatee Manners" video and a set of guidelines for interacting with manatees. Be sure to pay close attention and stay clear of no-entry zones that mark federal manatee sanctuaries. Violations can be costly - up to $100,000 and one year in prison.
Jim Dirden is a freelance photographer who lives in the Dallas/Fort Worth area of Texas.