Homosassa Springs State Wildlife Park
Text and Photograph By Jim Dirden
---
[ Reprinted Courtesy Of Outdoor Photographer Magazine ]
Location: Located 75 miles north of Tampa on U.S. Highway 19, Homosassa Springs State Wildlife Park is situated at the head of the Homosassa River, which flows nine miles to the Gulf of Mexico. The 166-acre park offers a unique year-round opportunity to view manatees in their natural surroundings.
The "Spring of 10,000 Fish" is constantly replenished by millions of gallons of crystal-clear water and is a refuge for manatees that have been injured, orphaned or born in captivity. When these manatees reach a point where all they require is nourishment, they're transferred to the park from various medical facilities throughout the state. While most are rehabilitated and returned to the wild, some manatees are classified as "long-term-captive" and aren't candidates for release.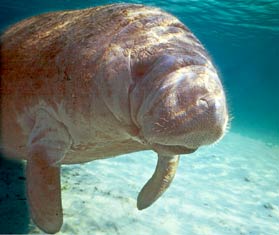 The park is much more than just a safe haven for manatees—it provides educational programs, wildlife displays, boat tours and nature trails that meander throughout this lush, hydric hammock environment. Visitors can also learn about crocodiles, alligators, the Florida black bear, Florida snakes, bobcats and numerous species of wild and exotic birds. One of the park's main attractions is the 168-ton underwater observatory where you can see the manatees and a wide variety of freshwater and saltwater fish.
Feeding starts at 7:00 a.m. and continues throughout the day—I watched in amazement as these giant creatures chomped away at 30 bushels of lettuce, cabbage, broccoli and spinach. On the average, an adult manatee weighs between 1500 to 2000 pounds; a typical calf weighs around 200 pounds. They consume roughly 10 to 15 percent of their body weight of green vegetables daily.
The rivers and springs around Crystal River and Homosassa Springs are among the few places in the world where divers can still interact with these rare marine herbivores. In the crystalline freshwater pool at Homosassa Springs, I've snorkeled among more than 20 manatees. It can be a little scary when a 1000-pound, 10-foot long critter starts sucking on one of your fins or decides to swim between your legs while you're trying to take its picture. Manatees have total buoyancy and can swim sideways and upside down and can turn on a dime.
Weather: This is Florida. Spring and summer are usually hot and humid, although the occasional thunderstorm will cool things off. A warning, though: Summer is also hurricane season. Fortunately, the manatees bask in the warmth of Florida's waters during late fall through winter, when the weather is ideal and temperatures are mild.
Photo Experience: Don't attempt underwater photography of manatees unless you have a minimum of novice level snorkeling and free-diving skills. You'll find that even the simplest of tasks can be tricky with a camera in your hands but with a little practice, you'll be shooting like a pro. Plan on taking one of the many excellent tours for your first encounter. In addition to finding the manatees, these folks also know how to take good snapshots and can pair you up with a buddy if needed. Even kicked-back diving should only be done in pairs.
If souvenir photos are what you want, try the inexpensive, single-use underwater cameras from Kodak, Konica and Fuji. Get the kind without a built-in flash—flash isn't required in these crystal-clear, shallow waters. If you're an experienced underwater photographer, try using your strobe unit as a fill light. If so, you must know how to deal with back-scatter, which is caused by illuminating particles suspended in water.
A word of caution: The manatee is an endangered species and is protected by strictly enforced state and federal laws. Prior to a dive tour or boat rental from one of the local dive shops, you'll be required to review a video and brochure. Pay close attention. Violations can be costly—up to $100,000 and one year in prison. The single most important guideline for interacting with manatees is the same as with other wildlife—look, but don't touch. Contact with manatees can be nearly as hazardous to their well-being as feeding or watering them. Frequent contact with humans can lead to behavior modifications, which reduces their natural fears and makes them even more susceptible to harm.
For more information, contact: Homosassa Springs State Wildlife Park, 9225 W. Fishbowl Drive, Homosassa, FL 34448, (352) 628-2311.
Best Times: From November to March, the manatee leaves the frigid coastal waters to bask in the warmth of Florida's many rivers and springs. During this peak season, sanctuaries such as those around Kings Bay in Crystal River host the largest winter gathering in Florida—as many as 300 manatees have been sighted in and around this area. Divers and snorkelers should also keep their eyes open for many varieties of freshwater fish. For non-divers, just relax and stay in the boat. With water this clear, you'll have a "big picture" view of nearly all of the manatees in the spring. At local shops, you can buy an inflatable periscope-like device that also provides a more telescopic underwater view.
Jim Dirden is a freelance photographer who lives in the Dallas/Fort Worth area of Texas.