Down From The Mountain Tour
Smirnoff Music Centre: July 20, 2002
[ Click Here to See More Concert Photos ]
---
Text and Photography By Jim Dirden
[ Reprinted Courtesy Of Tomlin Communications ]
Nearly 7000 dedicated American roots music fans turned out at the Smirnoff Music Centre in Dallas last Saturday evening for the Dallas performance of the highly successful Down From the Mountain concert.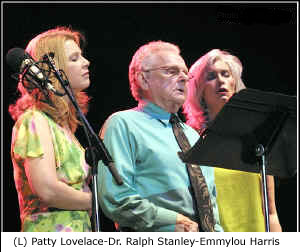 The tour is named after the documentary concert of the Coen brother's smash hit O Brother, Where Art Thou?, which was filmed at the Ryman Auditorium in Nashville and featured many of the same artists and songs as the movie. Master of ceremonies Rodney Crowell, Emmylou Harris, Patty Loveless, the Nashville Bluegrass Band, Norman & Nancy Blake, Alison Krauss & Union Station, Kate & Anna McGarrigle,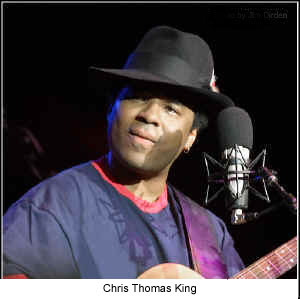 Chris Thomas King, the Flatlanders, the Peasall Sisters, the Whites, the Cox Family and Dr. Ralph Stanley all delivered incredible performances and had the crowd on their feet several times throughout the evening. One notable highlight of the concert was when Willard Cox came on stage in a wheelchair. After being seriously injured in an auto accident a few years ago, it was not certain whether Mr. Cox would ever perform again. What a treat is was to hear him play and sing with his family! Other magical moments included Dr. Stanley's moving a capella rendition of "O Death" and Dan Tyminski's rousing presentation of the O Brother theme song "I Am a Man of Constant Sorrow."
This genre of music has recently enjoyed a tremendous resurgence in popularity—due in large part to O Brother, Where Art Thou? and Down From the Mountain. However, even after seeing both movies and listening to their soundtracks countless times, hearing the music performed live by these gifted artists was, indeed, a truly memorable musical experience!
---
[ Back ]
Copyright © 2002 Jim Dirden
All Rights Reserved - Reproduction Prohibited